Valhalla - The #1 Rune Pure & Tank Clan - www.VH-RS.net - #Valhalla @ SwiftIRC - ValhallaRS CC
RSC: http://forums.zybez....lla-vs-anarchy/
We set out today with one target: Anarchy. Both clans knew we'd most likely clash today and we were eager to put them back in their place after a less than clean fight last Wednesday.
Valhalla starting: 22
Anarchy starting: 22 (x)
Shortly after logging into their world we were rushed by them west of GDZ. The fight started off with both clans holding their own but within 10 minutes we started to take the upper hand and never looked back. We pushed them through greaters and later new gate - pile by pile, most of their members were dropped in under 10 seconds and it wasn't long before they started to return in their trademark gear - 1 item moonclan, d'hide without ammy/helm, even mith kiteshields (x x x x x x x x).
After around an hour of fighting Anarchy was reduced to less than 5 people on the map, just returning to prolong their inevitable ending. At the end of the fight we were rushed by ~10 ROL - we ran north of New Gate to finish the rest of Anarchy off before rushing ROL who ended up bailing to single strip/logging. We then rushed GDZ to kill the remaining Anarchy stragglers before they ended.
Valhalla ending: 21
Anarchy ending: 0 on battlefield, 18 on TS
Thanks for the action AR, at least this was cleaner than our last few fights.
Screenshots: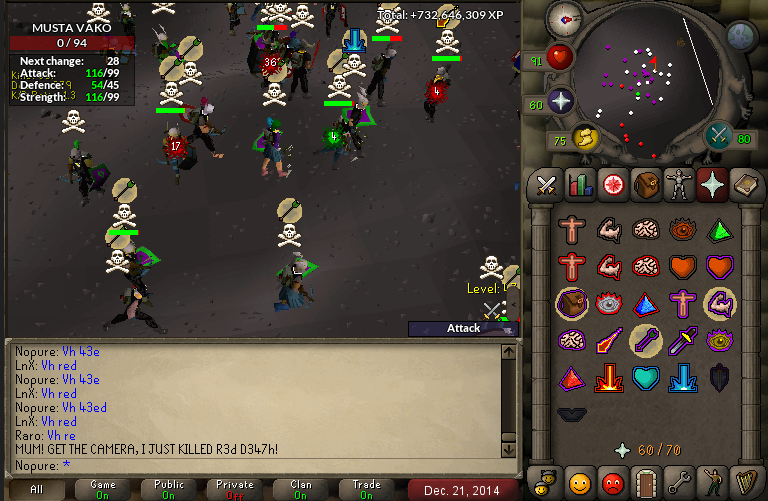 And inb4 "VH had mains"
Rune Pure or Tank and Interested in joining Valhalla?
Introduce yourself at www.VH-RS.net
#Valhalla @ SwiftIRC - ValhallaRS CC Ingame