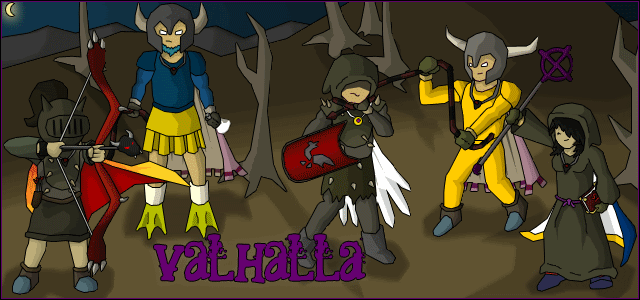 Valhalla - The #1 Rune Pure & Tank Clan - www.VH-RS.net - #Valhalla @ SwiftIRC - ValhallaRS CC
The GMT's (+EST Early Birds) were thirsty, thirsty for some loot. So with about 10-15 we hit up Spiders to teach Veracers a lesson. However we ran into more small pking teams then Veracers. They all got dealt with. Bands were Made.
Also VR made a appearance with about 4. Tele'd on sight. Massed to about 6. Ended.
Toad got a D-pick while Mutli tasking scouting and PvM
After Spider was cleared we decided to hit up Scorp before ending. Right away we ran into a team on 20-25 who outnumbered us greatly however after watching a few of their dear friends get slaughtered in front of their eyes, they quickly caught the fear and ran away.
Broscience ran into a Skulled PvMer who we smited for bank.
Broscience was kind enough to host a Drop Party at his house after we let the wilderness recover.
Thank you to the boys who came, Teamspeak was non-stop full of laughs and jokes for 3 hours.
Rune Pure or Tank and Interested in joining Valhalla?
Introduce yourself at www.VH-RS.net
#Valhalla @ SwiftIRC - ValhallaRS CC Ingame
Edited by Andy, 02 June 2015 - 03:50 PM.