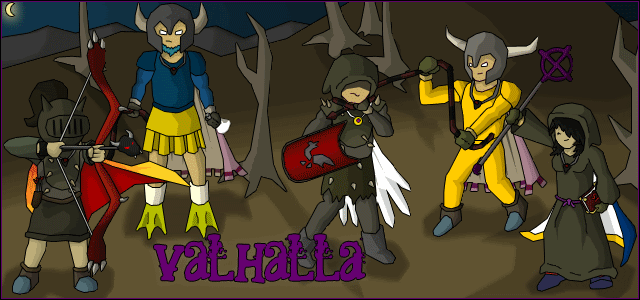 Valhalla - The #1 Rune Pure & Tank Clan - www.VH-RS.net - #Valhalla @ SwiftIRC - ValhallaRS CC
It all started out with a small Pk trip with a few Valhalla members. We set out tonight starting at Bear scouting around where we ran into Poison. From there, we massed up the squad and were set to find Poison. After scouting multiple worlds, we finally found them at Scorp and we began to feast. After clearing them swiftly, we set out to RDG where we found random little teams near Tip and RDG and continue feasting.
From there we found VR at GDZ and we quickly rushed GDZ where we commenced our fight. At this point Jaja started teleporting up and 1 iteming us. We moved the fight west of GDZ where at this point we had to fight both Jaja and Vr. Vr and Jaja were reduced to coming in rag and 1 item and from there, we moved the fight south of gap into dwarfs. We then moved to gorilla hill and started sniping the random idiots that were coming our direction. Overall, it was a fun three hours of pking and bank was definitely made.
Shout out to glumy for the V Helm pk though
Valhalla starting: 25
VR/Jaja starting: combined 32-35
Great piles were called, swift transitions and great d spears provided us an easy and enjoyable fight. Great job to all the dedicated members who continuously maged and shout out to the callers who did an amazing job.
Valhalla ending: 26
VR/Jaja ending: 0
Overall, this was a great trip. Unfortunately we had to get 1 itemed by the retards in Jaja, but what can you expect from an open-cc clan? Turn down for what fellas?
Screenshots:
Rune Pure or Tank and Interested in joining Valhalla?
Introduce yourself at www.VH-RS.net
#Valhalla @ SwiftIRC - ValhallaRS CC Ingame