Valhalla - The #1 Rune Pure & Tank Clan - www.VH-RS.net - #Valhalla @ SwiftIRC - ValhallaRS CC
We set out today with ~25 heroes ready to kill everything in the wilderness. We started off killing randoms in the wild ranging from lavas to bear to rogues to rune rocks to gap AKA FUCKING EVERYWHERE.
We then scouted Anarchy trying to PK so quickly hopped over and showed them the way out of the wilderness. They tried fighting back but quickly realized their error and ran for the hills.
After disposing of Anarchy we ran into Zerg Unit at Lavas. With some superb initial tanking from our scouts, Valhalla was able to take control of the fight and within minutes the minimap was purple. Thanks for the scrap ZU.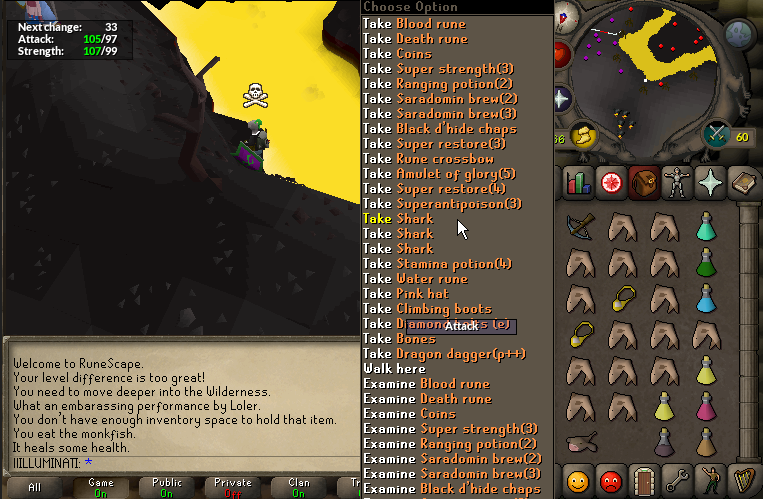 Not finishing here, a little birdie told us Ronin was out and we gathered up the troops for another feast. From the initial rush we had total control of the fight. Our tanking, piling, spamming outclassed Ronin greatly and after ~10 minutes of fighting Ronin called off returning.
We contacted Ronin for a runin but were ignored. Ronin then resorted to camping worlds waiting for us, trying to kill one and logging. However our great tanks managed to tank Ronin long enough just for the rest of Valhalla to log in and get hits off. They tried to fight back for a little but were quickly cleared from the wilderness again. Better luck next time Ronin.
Thanks for Kraken:
Fun as fuck trip lads. Keep up the activity.
Post your pics/vids if I didn't already post them.
Random Screenshots (lots of pics):
Rune Pure or Tank and Interested in joining Valhalla?
Introduce yourself at www.VH-RS.net
#Valhalla @ SwiftIRC - ValhallaRS CC Ingame