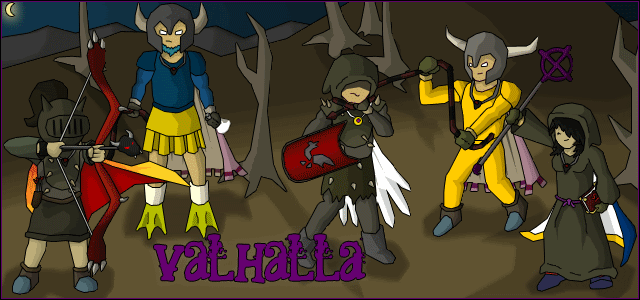 Valhalla - The #1 Rune Pure & Tank Clan - www.VH-RS.net - #Valhalla @ SwiftIRC - ValhallaRS CC
We prepped today expecting Anarchy to come out. We were silly to think that Anarchy actually pk'd on the weekends so we scouted lava's. After checking a few worlds we scouted ROL. We fought for around 10mins before they were cleared.
Valhalla starting: 37 (Peaked at 46)
ROL starting: 20+(?)
Valhalla ending: 35 (immediate ending)
ROL ending: 0
After fighting ROL we banked our loot and decided to head back up. With AF being on our dicks and no other action out we decided to fuck with Anarchy at their mass to fight some no name main clan before we ended.
After we ended our trip we got the word that AR was in wild so we decided to mass up quickly and hit em to remind them who is #1. We were able to get a juicy GWAS north of GDZ letting only a few of them get out alive. Shame AR talk all that shit about how they are the best when they decline all fight offers, run when they see 2 VH members, and can only compete with AF with them. If you want a fight you know what to do.
Rune Pure or Tank and Interested in joining Valhalla?
Introduce yourself at www.VH-RS.net
#Valhalla @ SwiftIRC - ValhallaRS CC Ingame