Valhalla - The #1 Rune Pure & Tank Clan - www.VH-RS.net - #Valhalla @ SwiftIRC - ValhallaRS CC
On Saturday at about 8pm central, we decided to go out for a 1-item , Iron Man Pk Trip.
Iron Man Pking - Start pk trip with runes/pots/food and 1 weapon. Everything else that you use must be pked. No Wilderness trust funds, you pk what you earn. At the end of the night whoever has the best gear setup wins.
http://vocaroo.com/i/s0Yol6vmDm9L
We quickly got up to 20 heroes at RDG. We slayed through about 50 retards for an hour for free shit.
At about 9pm central Toad logged into SB, and he was like "Yo theres like 6 here we can take them". Apparently Toad math 6 means 20, so we had to go put actual gear on.
We fought SB for like 30 minutes until AC crashed. We then went New Gate, where the worlds starting having a shit fest and breaking so we had to wait for 30 minutes for jagex to duck tape the servers back together.
Highlight of the SB fight was Illegal calling while having a Blood Alcohol Content of like 0.3 . He would be like "Get on the 124 SadBooys to the WesttBLAAAAAHHHHHHHHHHHH" and we would all burst out laughing.
We then pkd for the next 3 hours. Was free shit and alot of fun. #SaturdaySuperSeriousSlaying Session.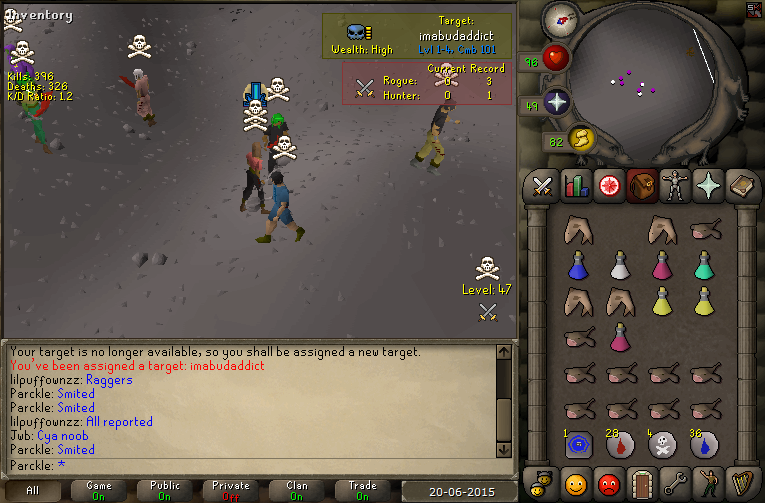 Rune Pure or Tank and Interested in joining Valhalla?
Introduce yourself at www.VH-RS.net
#Valhalla @ SwiftIRC - ValhallaRS CC Ingame
Edited by Parckie™, 20 June 2015 - 09:28 PM.