Valhalla - The #1 Rune Pure & Tank Clan - www.VH-RS.net - #Valhalla @ SwiftIRC - ValhallaRS CC
The fight that would close a rival just minutes after its conclusion, leaving Valhalla as the last & only Rune Pure + Tank Clan.
After completely violating them last Friday, we were surprised when EY asked us for a fight today. Turns out that in a last ditch effort, EY had week prepped in hopes of catching us off guard with a large pull. Unfortunately for them, we're always one step ahead of them and had posted a prep of our own shortly after they posted theirs.
After some discussion we came to an agreement to fight at Chaos Altar and rushed them in their world.
Valhalla starting: 61 [Record]
Empyrean starting: 43
Not much to say about the fight aside from the obvious: it was a complete slaughter. It was essentially over from the moment we rushed. In a desperate attempt to end their beating they called AF, however as we pushed EY further south AF wasn't able to attack us due to level differences leaving us alone in a 1v1.
After around 10 minutes of slaughter EY was reduced to next to nothing before we chased them down to level 8 wilderness where we finished them off completely.
Valhalla ending: 59 on TS
Empyrean ending: 0 ingame
We followed EY to several worlds where they sat at Edge/CWA making excuses for not fighting us. Since they were crying about crashers (.. when they called AF, lmfao) we offered to accommodate them in a CWA run-in, but they opted to close their clan instead.
Thanks for playing, shame you were the shittiest clan to grace the RP/Tank scene (aside from Anarchy).
EY's perspective: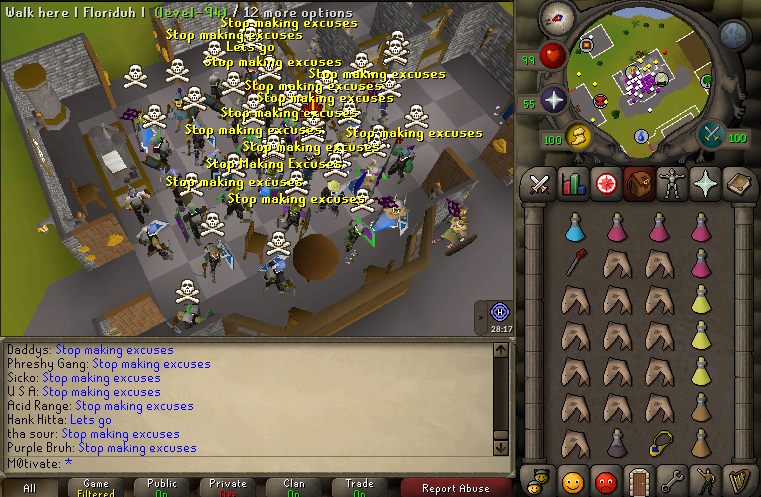 Rune Pure or Tank and Interested in joining Valhalla?
Introduce yourself at www.VH-RS.net
#Valhalla @ SwiftIRC - ValhallaRS CC Ingame