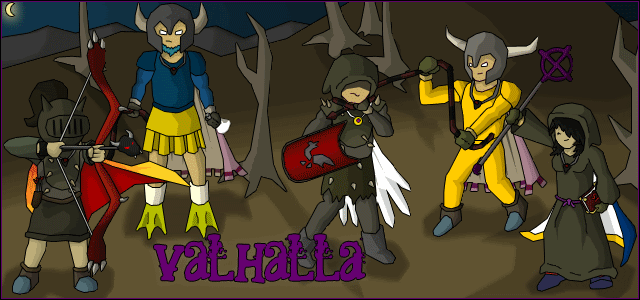 Valhalla - The #1 Rune Pure & Tank Clan - www.VH-RS.net - #Valhalla @ SwiftIRC - ValhallaRS CC
Valhalla Vs. Damage Incorporated
We set out for a planned fight with Damage Inc. As the last two times we fought they took the win we were eager for a challenge and to redeem ourselves. We agreed on the following rules:
Best out of 3
Matched Opts (VH gets +4)
Single Spells
55Def Cap
No +1's (Exception of Tent)
We ended up comfortably taking the win with round 1 and 2. Third round was extremely close with DI ending with only 4 members. Thanks for the fight!
Round 1
Valhalla starting: 29
DI starting: 25
Valhalla ending: 16
DI ending: 0
Round 2
Valhalla starting: 30
DI starting: 26
Valhalla ending: 14
DI ending: 0
Rune Pure or Tank and Interested in joining Valhalla?
Introduce yourself at www.VH-RS.net
#Valhalla @ SwiftIRC - ValhallaRS CC Ingame