Valhalla - The #1 Rune Pure & Tank Clan - www.VH-RS.net - #Valhalla @ SwiftIRC - ValhallaRS CC
The day started at around 3 PM EST with word that EY was killing pures around lavas. We quickly massed up and hit them in their world. Upon hitting them, the ones that didn't die instantly ran on sight.
EY would spend the next ~30 minutes regrouping, this time calling SB to aid them for blackup. Although 1/3 of EY's numbers were made up of mains from SB and they had the timezone advantage, we logged in their world and rushed them at GDZ.
Valhalla starting: 25
Empyrean starting: 20
Silver Bloods: ~10
What commenced next was nothing short of a slaughter. Pile after pile, EY was pushed all around the map with the ~10 SB mains carrying their in-game performance. After around 30 minutes we had gained to over 30 on teamspeak (later peaking at over 40) and we went from dominating the fight to winning the fight.
As if a 2v1 wasn't enough, when EY (+SB) couldn't handle the pressure any longer, they called AC in to back them up. For a good 15-20 minutes we fought 3v1 against EY+SB+AC before Imp(thanks for the AC) came in to clear AC. While their lifeline of other clans was being removed, EY mindlessly returned (sometimes in rag/1item) only to die and prolong their inevitable ending. After over an hour of fighting, EY+SB left the world handing us the victory.
Valhalla ending: 47 on TS
Empyrean + Silver Bloods ending: 0 on the battlefield
Anonymous Community ending: 0 after getting cleared by Imperium.
I'd say thanks for the fight, but the fact you had to call two other mains clans just to fight us and get some sort of cheap win shows the standards of your clan and the confidence you have in your members.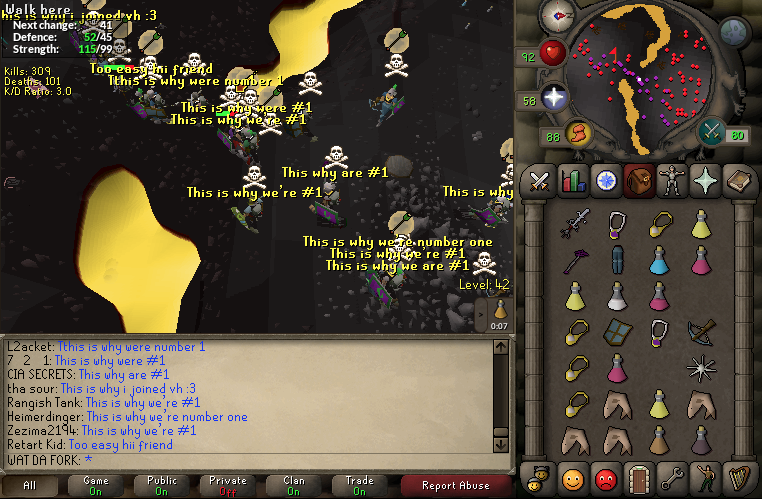 Btw: Amazing turnout on a Friday, keep the activity up
Interested in joining an actual Rune Pure/Tank clan?
Introduce yourself at www.VH-RS.net
#Valhalla @ SwiftIRC - ValhallaRS CC Ingame